Let's Talk About Events II
Hutch_Robin
Administrator, Hutch Staff
Posts: 585
Hutch Staff ›
admin
Previously, we had a discussion about Events. We read your ideas and listened:

Players asked for more events, we now have six non-daily events weekly.

Players asked for better prizes, and we have created more opportunities for great prizes from the weekend you could win 3 Ford GTs to the recent City of Gold, in addition to the Tri Series events.

Players asked for more rarity limited events, we run two of these weekly.

Players asked for more retro events, we have a weekly Throwback Thursday event focusing on a different decade

Players enjoyed the Suzuki style event, so we increased the length from 4 to 7 days establishing the first new event type, the Tri Series. Every two weeks, a new Tri Series event focuses on a different manufacturer and gives away some of the best prizes Top Drives has to offer.

Players wanted more single player content, we released Challenge mode, where each week, one of the racers from the Campaign returns to put your garage to the test.
We have also improved matchmaking, made events shorter, increased and rebalanced the RQ range, rebalanced challenges that offer too many or too few points, and changed some rally cars to have off-road tyres.
But we're not done:
Events 2.0
You may remember a little while back we had a Smart Car event. It was 5x Smart Car, and hardly anyone entered (seriously, fewer than 250 players). However, we knew if used a lower requirement, while more people would enter, you might run into a player with 2x Smart Car and 3x Bugattis. which spoils the idea of the event. So to allow this kind of events, we're introducing three big changes:

The least popular event...ever
Complex Event Criteria

Instead of specifying a number of a type of cards, we can specify a number of two types of cards. Whoa. Now going from one to two might not sound like much, but this is a big change. It allows much more dynamic restrictions. Themed events can feel more interesting while being accessible to players who don't have 5x of a vehicle. We haven't run events at all for a lot of the smaller lower performance manufacturers, but now we can.

Finally, an event I can enter!
To The (RQ) Limit!

By far the biggest request in our previous events thread was for RQ limited events, we trialled this in challenge mode and it's now coming to events, too. We're looking at how best to run these kinds of events, but here's an example of how it can apply to a Smart Car event and a new way to make rarity limited events more interesting.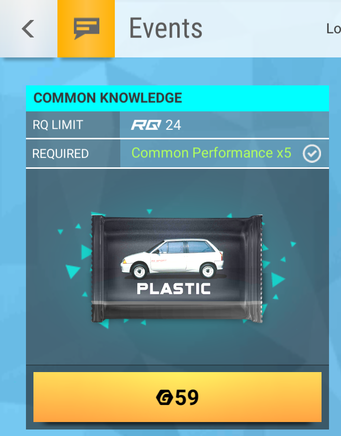 I knew hoarding these RQ4s would eventually pay off
Rarity limited events will all have an RQ limit so that more cars and combinations of cars are viable. Currently, Common Events have an effective RQ limit of 30, which means if there is a clear best car that's 6 RQ, you can use 5 of them, but now the RQ limit will be less than 30, somewhere around 22-26, RQ 5, 4. This means that cars at the bottom and middle of each rarity tier have much more potential.
Additionally, we are interested in establishing some new regular events in a different RQ format, perhaps 100 RQ.
B-B-Bonus Points
We can now allow particular types of cars to give extra points. In our Smart Car example event, now we have an open RQ50 event, but with a 200% bonus for any Smart Cars. So instead of a closed event, it's open, with a strong incentive to use a particular kind of car.

x2 is all well and good, but what about x10?
Notes
1) Bonus Points apply to points gained from individual challenges that you win (not including DNFs)
2) Bonus Points only apply to the active player
It's hard to know how this will change events, as it would be an optional criteria for players to choose or ignore at their peril. It's a really interesting mechanic that we'll closely observe once it's live.
In summary, multiple criteria, RQ limitations and Bonus points are all coming.
Feel free to talk about new ideas for events we can make with the new tools we have available. We do want to continue to try out different kinds of events and different prize tiers.
This discussion has been closed.