Jaguar XKR/RS Incorrect car + General Hierarchy needs addressing.
SCOOTYYYYYYYY
Posts: 42
✭✭
Starting off with the 2008 Jaguar XKR A24
 Where did they get the specs from for this car? From what I can find this car doesn't have 510Bhp which is suggested on the back of the card, rather 420Bhp form the 2007 Jaguar XKR. If this is the case the it's 0-60 stats are way off, unfortunately i don't have one to test its 1/4 mile etc. Also this car was limited to 155mph. This was always suspicious to me as this the least powerful XKR and the oldest was somehow faster than all the new alternatives... 
A24 Jaguar XKR75
They seem to have this car bang on. Maybe the power on the back should be changed to 530Bhp.
A23 Jaguar XKR175
Once again the specs are correct for this one. in this page it does state that the standard XKR was limited to 155.
A23 Jaguar XKR-S Convertible 
Car and driver tested this car and got it a tad faster than what jaguar claimed
@4
.2. They timed it at 4 seconds flat however calculated it probably could have done it around 3.7 seconds. Also shown on a previous post C&D hit 175 down a 1 mile runway with this car. I believe it should be noted for an improvement as the Jaguar XKR/S hierarchy at the minute is all over the place.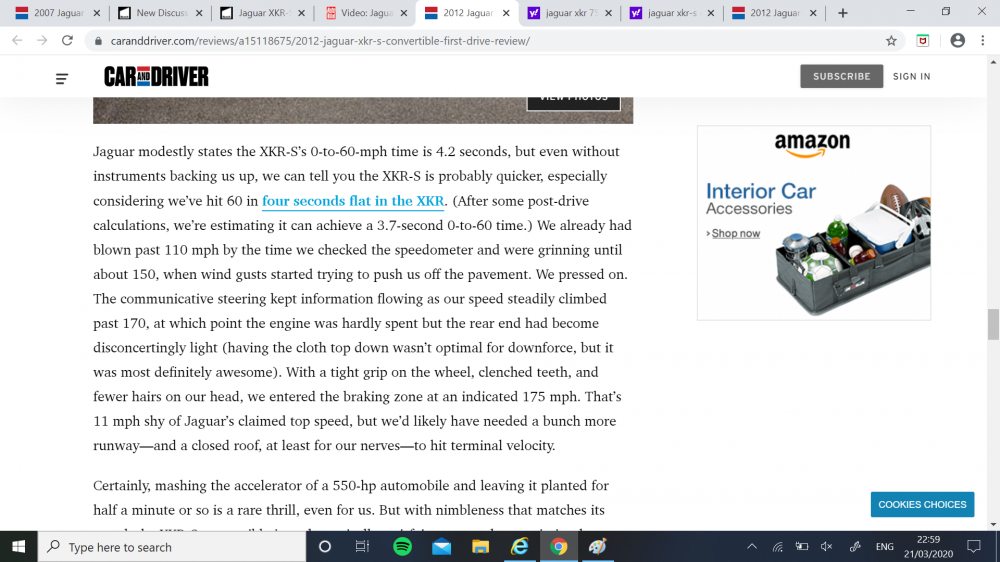 Links are as follows
XKR - 
https://www.caranddriver.com/reviews/a18200064/2007-jaguar-xkr-road-test/
XKR75 - 
https://www.netcarshow.com/jaguar/2010-xkr_75/
 + 
https://www.autocar.co.uk/car-review/jaguar/xkr-s/first-drives/jaguar-xkr-75
XKR175 - 
https://www.automobilemag.com/news/2011-jaguar-xkr175/
XKR-S convertible - 
https://www.caranddriver.com/reviews/a15118675/2012-jaguar-xkr-s-convertible-first-drive-review/
Sorry for no tests with these, I don't have any of them stock.